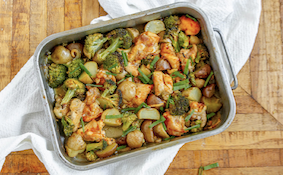 One Pan Chicken Thighs, New Potatoes and Broccoli
Brassicas, such as broccoli, are excellent for supporting natural oestrogen detoxification. I always ask my midlife clients to include a portion of broccoli or cauliflower every day with their dinner!
And here's an easy recipe. This is everything in one pan – super quick and not much washing up. An ideal midweek meal for a midlife woman!
Serves 4
Ingredients
600g chicken thighs (boneless and chopped)

400g broccoli, chopped into florets

300g small new potatoes, cut into quarters

2 tbsp extra virgin olive oil

2 tsp sweet smoked paprika

1 clove garlic, crushed

4 spring onions, chopped
Method:
Preheat the oven to 200ºC. Grease a good-sized baking dish.

Add the potatoes to the pan, sprinkle with the paprika, garlic and season to taste. Drizzle over the olive oil and toss until combined thoroughly. Roast for 30 minutes.

Toss the chicken and broccoli in the residual juices and return to the oven for 15 to 20 minutes or until the chicken is cooked through and the potatoes are tender.

Garnish with the spring onions. Enjoy!