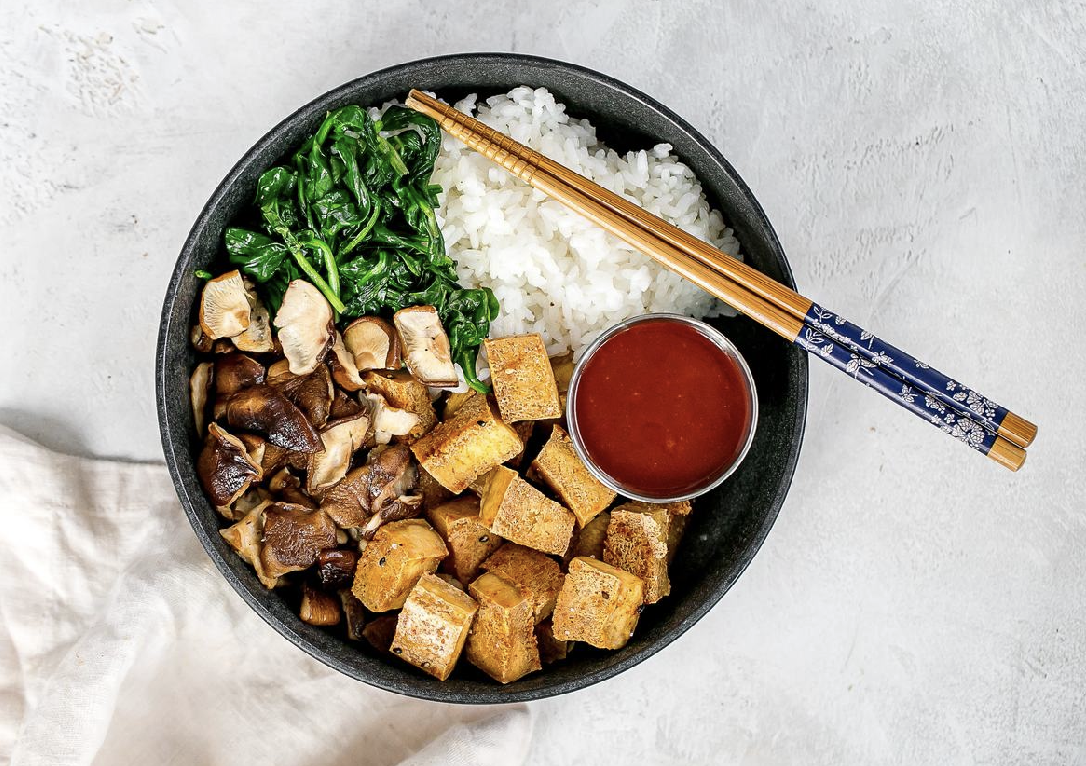 Tofu Bibimbap
Research shows that phytoestrogens, found in foods such as tofu, can be helpful in relieving menopause symptoms in some women, particularly Asian women.
So, this is my (rough) take on a Korean staple, using delicious tofu. This is a firm family favourite here, and a quick midweek meal.
Serves 4
425 grams tofu (extra-firm, pressed, and cubed)

2 tbsps tamari

2 tbsps avocado oil

1 tbsp arrowroot powder

2

cups

cooked quinoa

(about 2/3 cup dry)

400g shiitake mushrooms (stem removed, torn)

200g baby spinach

4

eggs

, optional

Seasoning to taste

2 tbsp Gochujang (or chilli paste/sauce)

1 tbsp rice vinegar (or apple cider vinegar, if you don't have any)
Method:
Preheat the oven to 200ºC and line a baking sheet with greaseproof paper.

Add the tofu cubes to a bowl and gently toss with ¾ of the tamari and ½ the oil. Then add the arrowroot powder and gently toss until the tofu cubes are well coated. Arrange the coated tofu cubes on the baking sheet so they are not touching. Bake for approximately 30 minutes, turning halfway through.

In a wok over medium heat, add the remaining oil. Once hot, pour in the mushrooms and cook until softened, about five minutes. Add in the spinach and toss until wilted. Season with salt and pepper and put to one side.

In a small bowl, whisk together the gochujang, remaining tamari, and vinegar.

Divide the quinoa, tofu, and vegetables between four bowls. If you like, you can then add a fried egg to the top.

Drizzle the sauce or divide into bowls for dipping.

Enjoy!