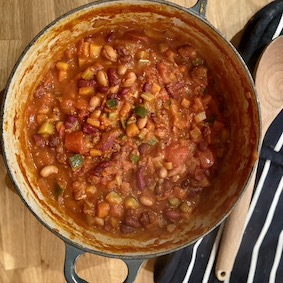 This is a real family favourite, and one we come back to time and again. It's largely made from store cupboard items and common veg that I usually have in the fridge. This is also a good recipe to make if you have veggie or vegan friends popping over, or to add in to your repertoire if you are thinking of trying out Veganuary.
Do have a look at my article 'Six Simple Steps for a Health Veganuary' if you are thinking of taking part next month.
You can adjust the spice level to whatever you prefer. My kids are just venturing in to more spicy foods, so we've moved to adding cayenne pepper. But you can adjust as you see fit or leave it out entirely if you're not keen on hot foods - the cumin and paprika give it a lovely flavour.
Serves 4
2 onions, finely chopped
1 tbsp olive oil
2 cloves garlic, crushed
1 stick celery, finely chopped
3 carrots, chopped
1 large courgette, chopped
2 tsp ground cumin
1 tbsp sweet smoked paprika
1 tsp chilli powder, whichever heat you prefer
2 tins chopped tomatoes
1 tin kidney beans, drained
1 tin black beans, drained
1 tin aduki beans, drained
1 tbsp tomato puree
Seasoning to taste
Heat the oil gently in a large heavy based pan. Add the onions and sauté until soft.

Add the chopped carrots, courgette and celery. Stir to combine and cook gently.

Add the dried spices and crushed garlic, stir to combine well and heat until fragrant.

Add the chopped tomatoes and stir to combine. Add the drained beans and tomato puree, mix well.

Add seasoning to taste and let it simmer gently for 25-30 minutes. Keep stirring regularly so it doesn't stick at the base.

Serve with wholegrain rice or quinoa.