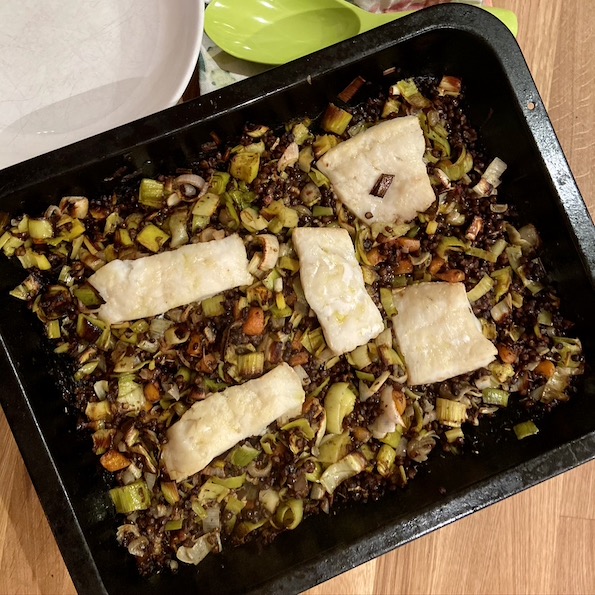 Baked Cods with Puy Lentils
This is a lovely, super-quick mid-week meal - full of good quality protein, and with cheap and easy to find ingredients. This is great with a big side helping of green veggies.
Serves 4
6 shallots, chopped (use 2 small onions, if you don't have shallots)
2 leeks, sliced
4 med carrots, peeled and cubed
2 packets pre-cooked Puy lentils (I use Merchant Gourmet, but you can easily replace with one tin of pre-cooked green lentils)
Extra virgin olive oil
1 tbsp Herbes de Provence (or any woody, aromatic herb like rosemary or sage)
2 cloves garlic
Seasoning
4 frozen cod fillets
Heat over to 200 degrees Celsius

Put chopped shallots, leeks and carrots into a large oven dish. Drizzle with olive oil, sprinkle with the herbs, add the crushed garlic, season to taste and give it a good mix up.

Pop in the oven for 8 minutes.

After the 8 mins has elapsed, take out the oven and nestle the frozen cod fillets into the veg, return to the oven for a further 25 minutes.

(If you're using fresh cod fillets, then leave the veg to cook for a further 15 minutes (so a total of 23 mins), and then add the fish and cook for 10 minutes).

Serve with a healthy side of green veg, drizzled with olive oil

Enjoy!