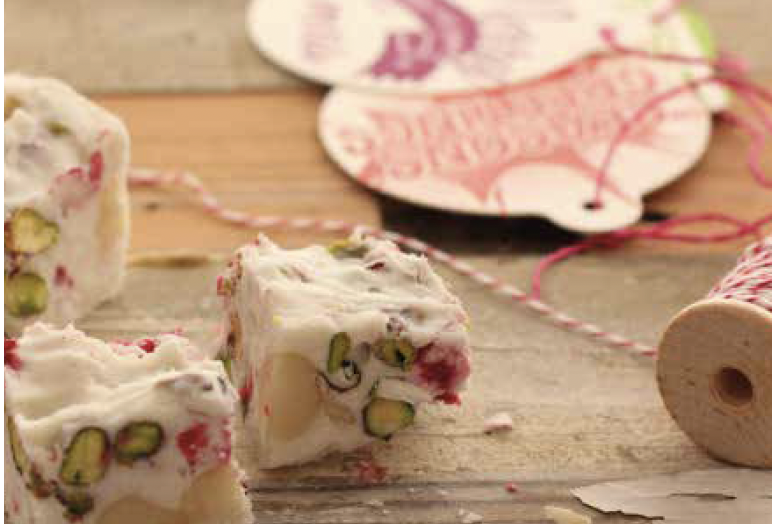 Sugar-Free White Christmas Bites
These are delicious little Christmas bites which make a great treat to have during the festive season.
And they look beautiful too!
Makes 20

Ingredients:
562 ml coconut butter
281 ml coconut milk
1 vanilla pod, seeds scraped
1 tbsp rice malt syrup
50g desiccated coconut
100g macadamia nuts, chopped
100g pistachios
100g frozen raspberries (keep in freezer until ready to use)
Method:
Line a 20cm square slice tin with baking paper.

Melt the coconut butter in a bowl over hot water until it has completely turned to liquid.

Place the coconut butter in the food processor. Add the coconut milk, vanilla, syrup and coconut until well combined. It is important to work quickly here, because you do not want the coconut butter to start solidifying.

It is easier to stir through the dry ingredients when it is still runny. Stir in the macadamia nuts and pistachios. Gently fold in the frozen raspberries.

Pour mixture into the prepared tin. Place the tray in the freezer for 3-4 hours. Use the baking paper to lift the frozen cake out of the tin and slice into squares (about 20). These are best stored in the freezer.

Note: You can eat them directly from the freezer or you can place them in the fridge for 30 mins before serving to allow the raspberries to soften a little.

Enjoy!