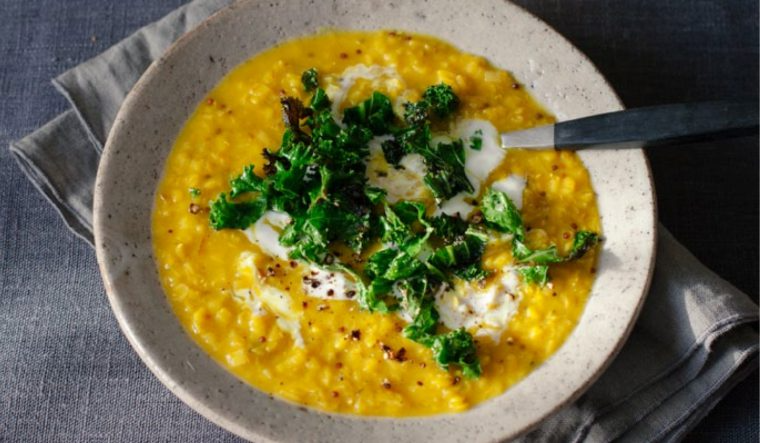 Lemony Lentil and Kale Soup
Functional Foods for Menopause - These are foods that actually do stuff in the body. On one level, the food you eat can help balance your blood sugar and energy levels. On another it keeps you feeling satiated and also nourishes you. The cherry on top is to use the very subtle yet magical powers of food to help support your body in times of need.

At this time of your life, that means phytoestrogens. Phytoestrogens are plant-based chemicals (the good kind), which are structurally similar to oestrogen and exert a weak oestrogenic effect. They include soy beans, lentils, beans, chickpeas, tofu, barley, rye, oats, alfalfa, apples, pears, carrots, fennel, onion, garlic, sunflower seeds, flaxseeds, liquorice root.

This delicious Lemony Lentil Kale soup fits perfectly and tastes great. Wonderful for the colder weather too.
Ingredients
Serves 4-6
1 tbsp extra virgin olive oil
1 onion, finely chopped
1 tsp turmeric
2 tsps ground cumin
Juice of 2 lemons
250g red lentils
1.5 litres of good quality stock
4 handfuls of kale, washed, trimmed, and shredded
Seasoning
Method
Heat a large pan and add the olive oil. Add the onion and sauté until soft and golden

Add the spices and fry for another couple of minutes until fragrant.

Add the juice of 1 lemon and stir thoroughly.

Next, add the lentils and stir well, followed by the stock. Simmer for 25–35 minutes, or until the lentils have cooked through. Add the juice of the second lemon and season to taste.

Sauté the kale in a olive oil until it slightly softens and goes bright green.

Serve the soup topped with the kale.

Enjoy!