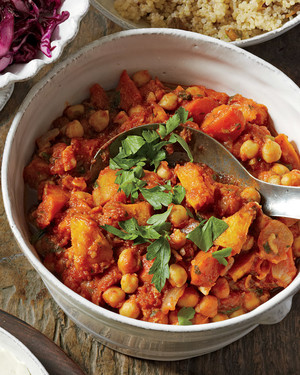 Butternut Spicy Stew
This is a great recipe for energy balance as it includes wonderful slow-release energy from the butternut squash and chickpeas. Coupled with the anti-inflammatory spices and zesty lemon, this is a fab Summer dish.
Ingredients - Serves 4
400g can coconut milk
1 tsp vegetable bouillon (or veg stock cube)
1 tbsp curry powder
1 tbsp turmeric
½ tsp ground cardamom
2 tbsp fresh ginger, grated
400g tin chickpeas
400g can chopped tomatoes
1 butternut squash peeled and cubed (about 800g)
1 medium onion, chopped
2 tbsp olive oil
Pinch salt
2 tbsp lemon juice plus 1 tsp lemon zest
2 large spring onions, thinly sliced
2 tbsp plain live yoghurt
Method:
1. In a large saucepan mix together coconut milk, vegetable bouillon, curry powder, turmeric, cardamom, 1tbsp grated ginger.
2. Add chickpeas (and their liquor), tomatoes, butternut squash, and onion, and mix to combine.
3. Bring to the boil and simmer for about 20-30 mins.
4. Make lemon-onion drizzle: in a small bowl, whisk together olive oil, lemon juice and zest, spring onions, remaining grated ginger, and pinch salt.
5. Serve the stew with quinoa or half a baked sweet potato, plain yoghurt, and drizzle with lemon-onion drizzle.
6. Enjoy!