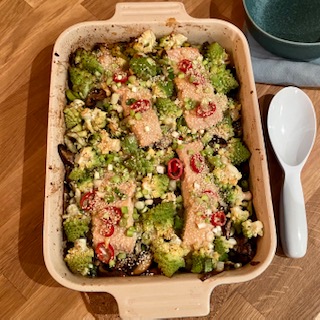 This a wonderful quick and easy work-night meal. It doesn't take very long to prepare and there is minimal washing up, both of which are must-haves in the Allan household during the week. This is also a great recipe for this time of year, as both leeks and mushrooms are in season, therefore abundant and affordable, and I'm still getting good Brassicas like the Romanesco cauliflower in my weekly veg box (thank you @Riverford!).
Miso paste is fairly widely available in most supermarkets. It's a great ingredient to keep in the fridge, as it gives a wonderful umami flavour to broths, veggie gravy, stews and dressings. The pastes tend to taste much better than the powdered variety, so do opt for those if you can. Miso means 'fermented beans' in Japanese and is a nice way to incorporate a fermented food into your diet. Good for you gut!
Serves 4
Ingredients
2 leeks, sliced into rings
1 head Romanesco cauliflower, broken into florets (or use broccoli or cauliflower, if not available)
250g chestnut mushrooms, sliced
Olive oil
2 tbsp tamari (gluten-free soy sauce, or use regular soy sauce, if that's what you have)
4 wild or sustainable salmon fillets
4 spring onions, thinly sliced
1 tbsp sesame seeds (garnish)
Brown rice or quinoa to serve
Dressing
1 tbsp miso paste
2 tbsp sesame oil
2 tbsp mirin (rice wine vinegar, or can be substituted with sherry vinegar or white wine vinegar)
½ inch grated ginger or 1 tbsp frozen grated ginger
1 red chilli, deseeded and finely sliced (optional)
Pre-heat the oven to 200 degrees Celsius.

Add the leeks, Romanesco florets and sliced mushrooms into a large roasting dish and drizzle with olive oil, 2 tbsp tamari and season with black pepper. Toss the vegetables to cover thoroughly and roast for 15 minutes. Put the rice or quinoa on to cook according to the packet instructions.

Whisk all the dressing ingredients together in a jug. Add a little warm water to loosen to pouring consistency, if necessary. When the 15 minutes are up, remove the roasting dish from the oven, give the veg a good shake, and then evenly space the salmon fillets into the dish, nestling into the veg.

Pour over the miso dressing, focussing on the fish fillets. Return the dish to the oven for approximately 10 minutes or until the fish is opaque and cooked to your liking.

Scatter over the sesame seeds and sliced spring onions. Serve with the brown rice or quinoa.