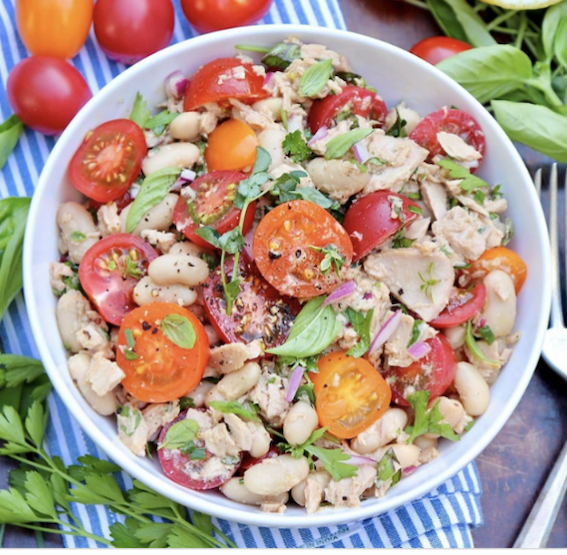 TUNA AND SOYA BEAN SALAD
This is a quick and easy lunch recipe that is packed with nutrients to support hormone health.
Soya or edamame beans are a fantastic source of phytoestrogens, which research shows may help symptoms when our oestrogen levels are bouncing up and down!
Plus, this is an excellent blood sugar balancing meal that will keep you fuller for longer.
Serves 2

Ingredients:
200g frozen soya beans
2 spring onions, thinly sliced
1 can of tuna, drained
Handful of fresh coriander or flat leaf parsley, leaves roughly chopped
12 olives
10 cherry/ plum cherry tomatoes, sliced
2 tbsp apple cider vinegar
2 tbsp extra virgin olive oil
Sea salt & pepper
2 large handfuls of mixed leaves/ rocket
Method:
1. Cook the soya beans in some boiling water for 6-7 minutes before draining.
2. Place the spring onions, tuna, herbs, olives, tomatoes and soya beans into a large bowl and, using a fork, break the tuna into flakes.
3. Drizzle the vinegar and olive oil over the salad, seasoning with sea salt and black pepper. Toss well.
4. Fold in the leaves before serving.
5. Enjoy!