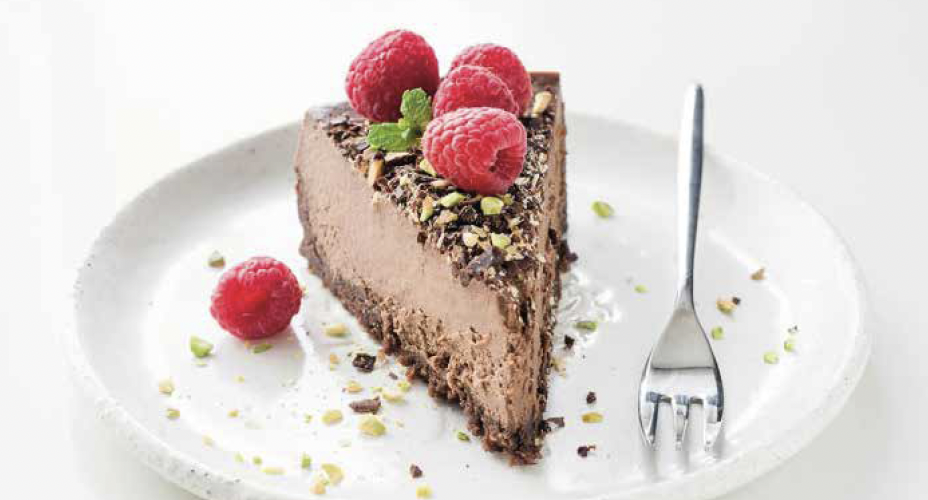 Raw Chocolate and Hazelnut Cheesecake
Looking for a gluten and dairy free dessert that tastes divine? Well, I have just the ticket! And this one makes a real showstopper. You'll make this and wonder why you haven't been making it for years. A new recipe for your Christmas rotation – you're very welcome!
Prep time: 30 mins 12 hr chilling time
Serves 8-10
Ingredients:
For the base
250g ground hazelnuts
10 Medjool dates, pitted
3 tbsp cacao powder
2 tbsp raisins
1 tsp vanilla paste
Pinch salt
For the filling
250g cashews, soaked in boiling water for 30 mins and
drained
120g coconut oil, melted
100g ground hazelnuts
5 tbsp maple syrup
6 tbsp cacao
1 pot cashew yoghurt
70-100ml hazelnut milk
1.5 tsp vanilla paste
Pinch of salt
Method:
Blend together all the base ingredients until the mixture starts to clump together, adding more dates if needed. Press into the base of an 8-inch spring-form

cake tin, then place in the freezer to firm up for 20 mins.

Make the filling by blending all ingredients together until completely smooth and creamy in a high-power blender, adding a splash more milk if needed and adjusting sweetness to taste.

Spoon filling over the set base and place back in the freezer to firm up overnight.

Remove from the cake tin 15-20 mins before serving and top with raw chocolate if desired. Decorate with chopped nuts and berries before you take to the table.

Enjoy!