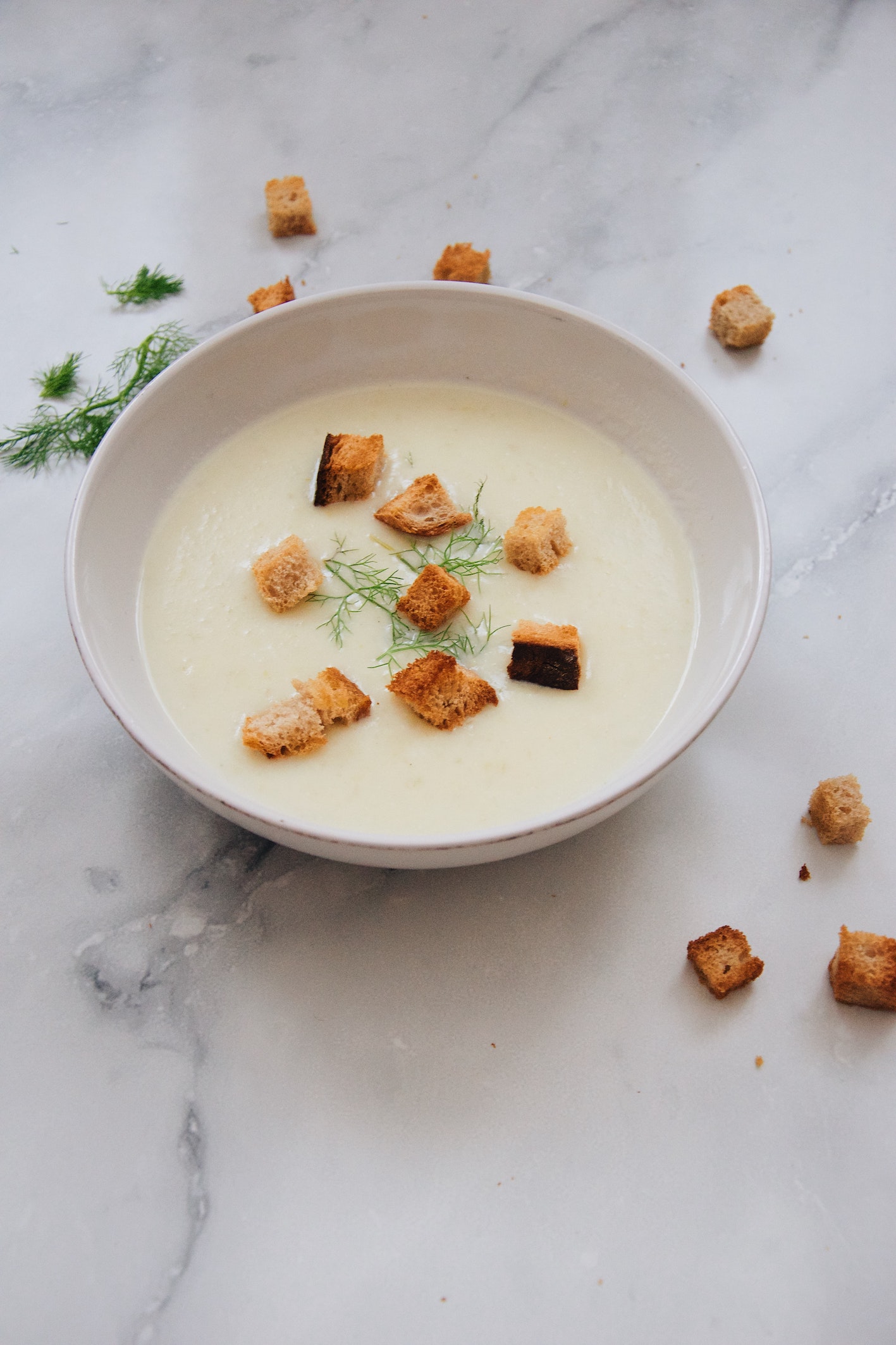 One of my favourite things about the colder weather is that it signifies soup season, and soup is the easiest lunch or starters offering ever. This one is packed with delicious wintery flavours of celeriac with just a touch of nutmeg and coriander.
Celeriac is also in season right now, and it's loaded with important vitamins, such as vitamins B6, C and K, and it's a great source of fibre. Plus, it tastes delicious!
Don't be put off by it's unusual appearance - once it's peeled and chopped, it doesn't look that different from parsnips.
INGREDIENTS
300g fresh fennel, finely chopped (including the green part)
230g celeriac, finely chopped
1 garlic clove, finely chopped
2 tbsp olive oil
1 tsp coriander seed
¼ tsp ground nutmeg
850ml water
1 vegetable stock cube
140g butter or 2 tbsp coconut cream
Juice of 1 lemon
salt & ground black pepper, to season
A handful fresh dill or tops of fennel, chopped, to garnish
Handful of gluten-free croutons (Optional)
METHOD
Fry all vegetables in oil in large pan over high heat for a few mins.

Add the coriander seeds and nutmeg. Stir and fry for another minute.

Add water and stock cube. Bring to a boil and lower the heat. Let simmer for about 10 mins or until everything is soft.

Add the butter (or coconut cream) and lemon juice, and stir.

Remove from the heat and use a stick blender to blend to the desired consistency.

Season to taste. Garnish with the fresh herbs – I often use the fennel fronds - and sprinkle with gluten-free croutons.

Enjoy