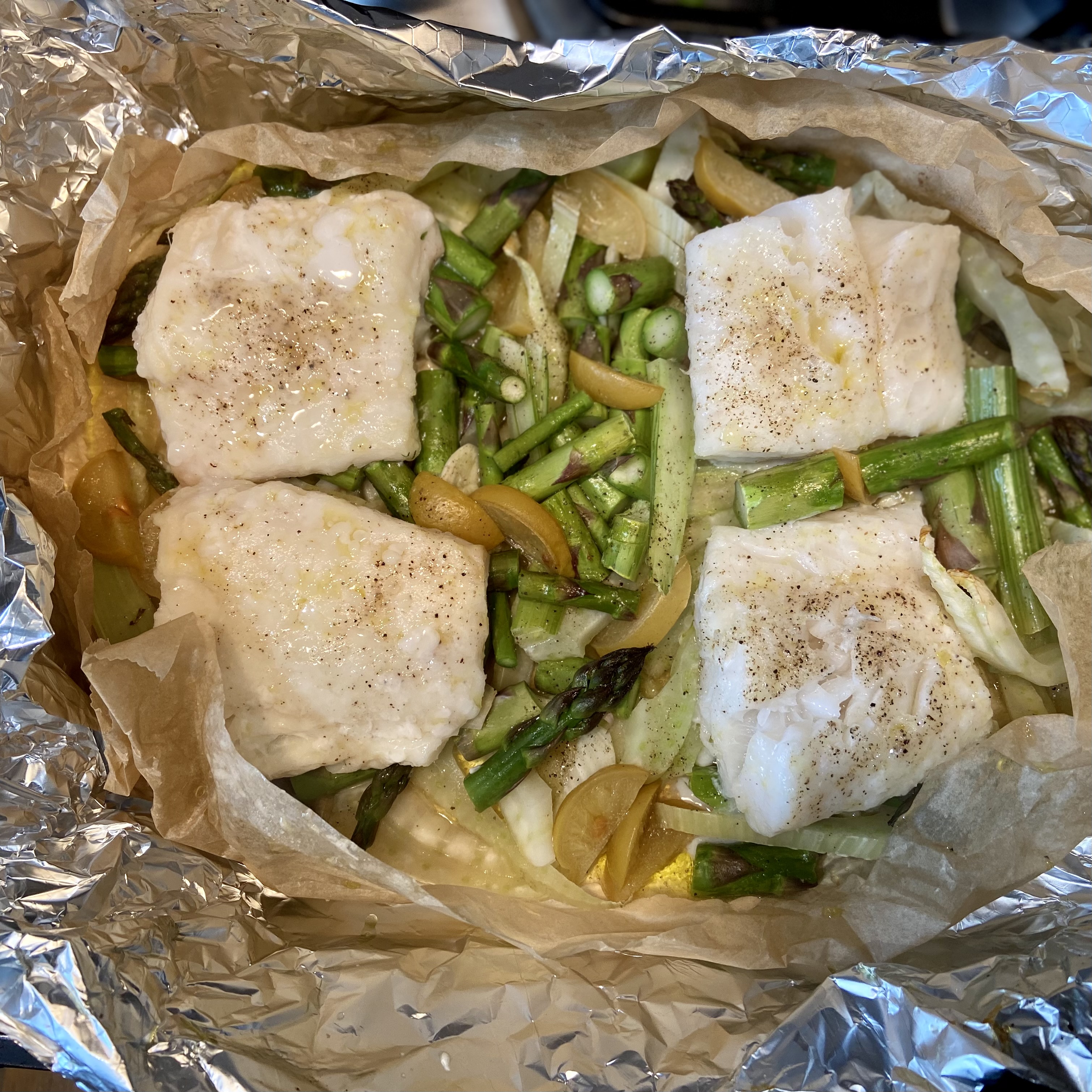 I am a huge fan of asparagus – particularly British asparagus, you really can't beat it! So, I am super excited that it's currently in season!
But did you know that as well as being completely delicious, asparagus is a real powerhouse of a veggie. Asparagus is an excellent source of vitamins and minerals especially folate and vitamins A, C & K. Plus, it is a great source of both insoluble and soluble fibre making it the perfect partner for a healthy gut and good digestion.
Ingredients
4 fillets cod
1 large bunch asparagus, cut into 3-4cm pieces, tough ends removed
1 fennel bulb, very thinly sliced
½ white onion, very thinly sliced
1 lemon, very thinly sliced
2 cloves garlic, thinly sliced
3 tbsp extra virgin olive oil
1 tbsp lemon juice
Seasoning to taste
Serves 4
Method
Preheat the oven to 200 degrees Celsius.

On a flat oven tray, lay out a large piece of foil (larger than the tray) and line with grease-proof paper (also larger than the tray.

Arrange the asparagus, sliced fennel, onion, lemon and garlic along the bottom of the tray. Drizzle with olive oil and season to taste.

Nestle the fish fillets into the veg evenly and season.

Drizzle with olive oil and 1 tbsp lemon juice.

Wrap up the paper and foil so that the veg and fish are encased. Pop in the oven for 20 minutes. Fish should be cooked through and asparagus tender.

Serve with new potatoes and steamed greens.