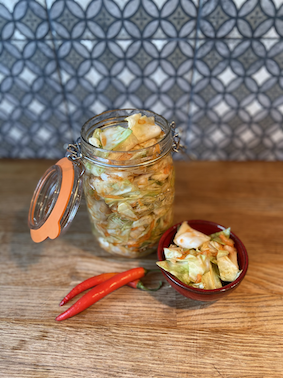 INSTANT KIMCHI
This is a popular, spicy condiment that can be used in a variety of way – side dish to a curry, stir-fry or salad, as an element of a sandwich or wrap, or to spice up any dishes that need it.
It's also a great way to get some of the delicious Hisby cabbage into your diet! Slightly sweeter than your traditional cabbage, it is sometimes known as sweetheart cabbage or pointed cabbage. Cabbage is part of the Brassica family and as such is a superhero in the nutrition world! Rich in vitamins K, C and folate, it also packs a fantastic fibre punch. Cabbage is excellent for gut health – the soluble fibre it contains make a great meal for the microbes in our gut, which in turn keep us healthy. And it is fantastic for hormone health.
Ingredients
1 Hisby or pointed cabbage
1 tbsp sea salt
3 cloves garlic, crushed
1 tbsp grated ginger (fresh or frozen)
2 tbsp chilli sauce (hot not sweet)
2 tbsp fish sauce or veggie fish sauce
1 tsp honey
3 tbsp rice wine vinegar (or white wine vinegar, if you don't have this)
2 carrots, grated
1 onion, finely sliced
Makes 1 x 1 litre jar
Method
Chop the cabbage into 1-inch slices, pop in a bowl and cover with 1 tbsp sea salt. Leave to sit for 1 hour.

Meanwhile, in a large bowl combine the garlic, ginger, chilli sauce, fish sauce (if using), honey and vinegar into a bowl and whisk to mix thoroughly. Leave to stand for flavours to combine.

After an hour, transfer the cabbage to a colander and rinse thoroughly to remove the salty layer. Dry in a salad-stirrer or thoroughly with a clean tea-towel.

Tip the cabbage into the bowl with the sauce you made early and mix thoroughly, so all the leaves are covered in the paste.

Pop it into the jar. This can be used straight away as a side for a meal, or it will keep in the fridge for maximum a fortnight. The flavour will strengthen as time progresses.

Enjoy!