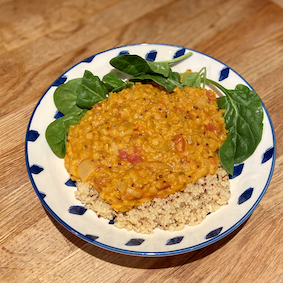 This is an easy recipe and can be made from store-cupboard items, so this is a great meal to have if you're needing to go shopping. It also makes a regular appearance in our Friday night 'fakeaways' that we've been having – pairing this alongside a chickpea or prawn bhuna, plus some spiced quinoa and spinach makes a veritable feast. Plus, this is easy to freeze, so I often make a double batch and put some in the freezer for when I'm short on time at a later date. A winner on many levels!
If you're new to legumes and pulses, red lentils are a good place to start. They're quick and easy to cook, and they pack a nutritional punch. Lentils are a great source of B vitamins, iron, magnesium, potassium and zinc. They're also full of fibre, which supports a healthy tum and provides food for our friendly bacteria. Eating lentils regularly has been seen to improve overall gut function. Plus, they're delicious, and even the fussiest of eaters seems to get on well with their umami flavour.
Ingredients
1 tbsp ghee or 1 tbsp coconut oil
1 large onion, finely chopped
1 carrot, coarsely grated
3 cloves garlic, crushed
2 tsp cumin seeds
2 tsp black mustard seeds
1 level tbsp turmeric
250g split red lentils
350ml water
1 tin whole coconut milk
1 tin chopped tomatoes
2 tsp freshly grated ginger (or frozen grated ginger)
Seasoning
Chopped coriander to garnish (optional)
Serves 6
Method
In a large, deep pan heat the ghee or coconut oil and then gently sauté the onions until soft and golden

Add the grated carrot, crushed garlic and the whole spices. Stir and sauté until fragrant, approximately 5 mins on a gentle heat

Add the turmeric and stir to cover well, allowing to cook through for 1 min

Add in the lentils and stir to combine with the onion mix. Follow this with the water, coconut milk, chopped tomatoes and ginger. Stir well to combine. Season to taste

Bring to simmering point and then leave to cook on a gentle heat, uncovered for 30-40 mins until the lentils are soft and cooked. Note – this has a tendency to catch on the bottom, so stir frequently and add a little more water if required

When cooked test for seasoning. Serve with brown rice or quinoa, with a garnish of chopped coriander

Enjoy!