By Alex on 01/04/21 | Recipes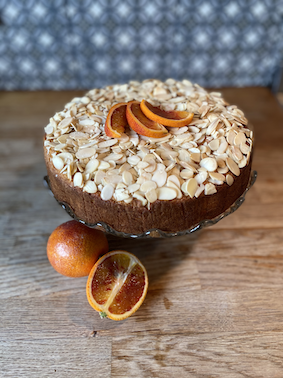 Blood Orange and Almond Cake
This is a delicious, moist cake, which works perfectly as a dessert or treat for guests. Both gluten and dairy-free, but you would not notice!
Blood oranges are rich in

antioxidants

, which help reduce the stress of oxidation and lower your risk of chronic health problems like

cancer

,

heart disease

, and diabetes. Due their fantastic pigment, they have 9 x the antioxidant capacity of Navel oranges, as well as 3 x the polyphenol content.
Oh, and

they are really tasty!
Ingredients
3 medium blood oranges
6 eggs, separated
150g honey
265g ground almonds
2 tsp baking powder
½ tsp ground cardamon
1 tsp vanilla extract
4-6 tbsp flaked almonds
Pinch salt
Serves 8-10
23cm springform tin, greased and lined
Method
Wash the oranges and put in a pan. Cover fully with water and bring to the boil, then simmer gently for 2 hours or until very soft. Wa

tch the water level.

Drain and leave to cool completely.

Pre-heat the oven to 160 degrees fan / 180 degrees normal.

Chop up the oranges, remove any seeds, and put the rest into the blender (skin and all). Blitz to a puree and put to one side.

In a clean bowl, whisk the egg whites until they form stiff peaks.

In another bowl, beat the egg yolks with the honey and vanilla essence until fully combined. Stir in the pureed oranges.

Fold in the ground almonds, ground cardamon, pinch of salt and baking powder.

Gently fold in a couple of spoonfuls of the egg whites, before then folding in the rest of the egg whites.

Pour the batter into the prepared tin. Sprinkle with the flaked almonds. Bake for 60 minutes or until a skewer comes out clean. If the cake starts to brown too quickly then cover with foil for the remaining time.

Allow the cake to cool in the tin for at least 30 minutes as it will be too fragile to remove at this point.

Leave to cool completely on a wire rack. Serve in slices with whole Greek yoghurt.